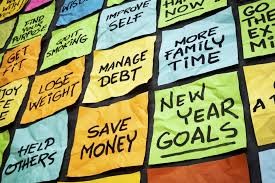 January is the first month of a new year, and that signifies new beginnings. It's a time when we get a "do over". Everything that wasn't accomplished in the prior year we get a chance to start over. Many of us start by getting rid of bad food(cookies, cake, candy, soda, sweet tea, pizza, etc.), we go shopping for healthy foods, we buy new journals, start new vision broads, set-up new budgets, end toxic relationships, and the list goes on and on depending on where we are in our life. Stop!
Take a new perspective on how you want to accomplish your 2018 dreams and goals. Write them down to ensure you have clarity. God, was so gracious in giving each of us unique gifts and talents. Be determined in your mind and actions that this year you are not giving up. Whether you take off running or take small steps, no matter how you begin the plan is to start. Every step in accomplishing your dreams and goals bring you closer to the victory.
Keep in mind, there is one thing for sure that will destroy dreams and goals, and that's procrastination don't let it succeed in destroying what you believe. There are many people with a lot of great information that can help you get started, and walk you through the steps to achieve those dreams and goals. So, take advantage of what they have to offer. Remember this, the person that will receive more from what you have to give is YOU- Make things happen!